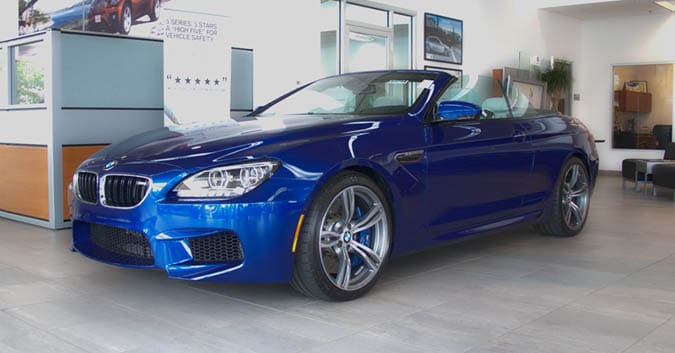 Attention all BMW Enthusiasts:
After a two year hiatus, the M6 convertible is back and better than ever before. Open Road BMW of Edison just received our launch car for the All New BMW M6 Convertible. We are excited to receive our first car! For those who love to feel the wind in their hair and the power of M, this vehicle boasts 0-60 in under 4.3 seconds with the M TwinPower Turbo V8 engine that's the most powerful ever-fitted in a BMW.

4.4-liter, M TwinPower Turbo V-8 engine, 560 hp
The 560-hp response of the M6's new 4.4.-liter V-8 engine is nearly instantaneous. Double-VANOS infinitely variable camshaft timing and High Precision Direct Injection play in concert with patented Valvetronic individual intake valve control that eliminates the need for a less-efficient throttle plate. The result is another M characteristic: linear, instantaneous delivery of a massive 500 lb-ft of torque over an exceptionally broad rpm range, from idle to high revs. This results in 0-60 mph of just 4.3 seconds.

7-speed M Double Clutch Transmission with Launch Control
This racing-derived 7-speed M Double Clutch Transmission (M DCT) can be personalized by the driver to match a wide range of preferences, from Comfort to Sport +, and can operate in either automatic or sequential manual mode. In the manual mode, you shift like a Grand Prix driver by flicking paddles just behind the steering wheel, without taking your hands off the wheel. Here's how it works. M Double Clutch Transmission is based on not one, but two partial transmissions housed inside the same case. One side contains gears 1, 3, 5 and 7; the other, gears 2, 4 and 6. Let's say you're accelerating hard in gear 3. Before the shift to gear 4 is made, this next gear is already selected and ready to go. To make the shift, M DCT doesn't push gears. Rather, it swaps the two clutches to instantly engage the next gear on the other side of the transmission. Changing clutches, instead of physically moving gears, is blindingly fast - and it can be executed with your right foot flat to the floor. Downshifts, similarly, are executed with perfect consistency and engine rev-matching while braking or coasting. The overall result are precision and consistency which allow drivers to focus maximum attention on the road or track.
Brake Energy Regeneration
To supply a battery with electrical energy, the generator (alternator) is usually driven using engine power, which requires fuel. With Brake Energy Regeneration, the generator produces electricity when the driver brakes or takes a foot off the accelerator. Kinetic energy that was previously unharnessed is transformed into electrical energy, then fed into the battery. In this way, electricity is generated without consuming fuel.